Halloween is upon us, which means it is time to get ready for parties full of corny decorations, scantily dressed women and lots of sweets and booze. Probably sweet booze too. Of course I have to contribute to this spooky tradition by making some oddly colored drinks in weird glasses.
The idea for this week's cocktails comes Mixology Monday which is hosted by JFL from RatedRCocktails.com.
Your challenge for my MxMo of Horrors is to create a terrifying tipple. It could be a drink that just screeches Halloween. Maybe it's a recipe to honor your favorite horror movie or star. It could be a spooky garnish or petrifying punch. Heck if you wanna make eyeball jello shots who am I to tell you no. Let your creativity shine, I want to hear the blood curdling screams of your readers as they sip your creepy creations. – Rated R Cocktails
I have a fondness for horror movies and alcoholic beverages, which means that I approve of this challenge. And since my internet and PC are running again I can take some time off of unboxing lots of moving boxes and prepare some dastardly drinks.
Mad Scientists Are Awesome
When I think about classic horror movies I think about movies with crazy (in my eyes perfectly normal) scientists, like Frankenstein or Dr. Jekyll and Mr. Hyde. And those scientists always work in labs full of beakers, test tubes and other sciency stuff. I like the idea of a secret, laboratory to do mad science in and if I ever were to host a Halloween party, I would decorate accordingly.
As I found some test tube shot glasses lying around, I knew I had the perfect corny decoration for this month's Mixology Monday. In my opinion shots at a party are always a good idea and you get bonus points for not just serving straight liquor.
The idea was to create some nice and unusual colors while using the best ingredients available. This means fresh juice and for extra difficulty no Blue Curaçao. So I went ahead and tried lots of combinations, some were quite horrendous in taste, but sadly that was not what I was going for. I ended up with three different colors and three different drinks that are enjoyable too.
---
![Green Gulp Ingredients](/content/images/2015/10/GreenGulpIngredients.jpg)
Green Gulp
Pour all ingredients into a cocktail shaker filled with ice and shake thoroughly for 10 seconds. Fine strain into shot glasses. Enough for four shots.
---
The result is a wonderfully lime-colored shot, that is slightly sweet and floral. Hendrick's Gin is a great base that unifies the orange, melon, viola and lemon. With the sweet taste and lots of different impressions I don't think this cocktail is something to enjoy slowly, but it leaves a great impression if downed as a shot.
---
![Red Rum Ingredients](/content/images/2015/10/RedRumIngredients.jpg)
Red Rum
30ml Fresh Pomegranate Juice
20ml Lime Juice
15ml Simple Syrup
Pour all ingredients into a cocktail shaker filled with ice and shake for 10 seconds. Fine strain into shot glasses. Enough for six shots.
---
A nice vibrant red-colored shot that is fruity and quite tart. Despite the simple syrup the shot isn't sweet, which is exactly the right thing to clear your palate from all the sweet stuff one consumes at a Halloween party. If you omit the simple syrup it becomes a bit too unbalanced, but it is worth a try nevertheless. If you can't get your hands on some Cuban rum, any good quality white rum will work.
---
![Black Brew Ingredients](/content/images/2015/10/BlackBrewIngredients.jpg)
Black Brew
Pour the vodka, liqueur and syrup into a mixing glass with ice and stir for 20 seconds. Strain into shot glasses. Enough for five shots.
---
A dark and almost black shot that keeps you going throughout the night. The key ingredient is a high quality coffee liqueur. Nuevas Rias isn't very sweet which allowed me to add some delicious molasses syrup. The syrup is almost black in itself and adds a wonderful aroma to the finished drink.
Madness!
Well there you have it, three different shots, all very different in taste and color. Beautiful to look at and quite tasty if you decided to drink them. That's enough to start your crazy underground laboratory in style!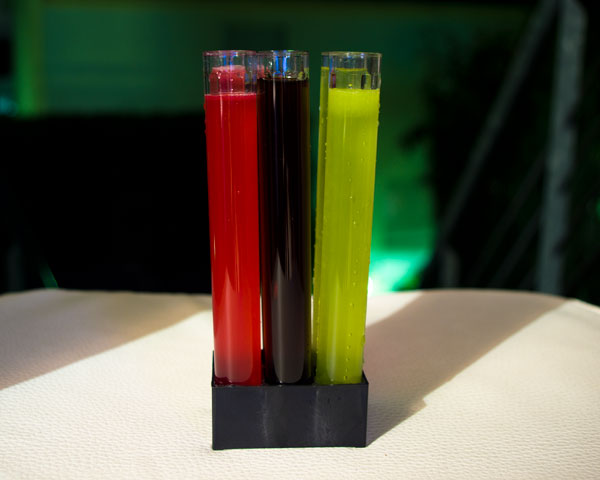 The great thing is that you can prepare them well in advance and store them in the fridge or freezer until you need them. This way you can offer some quick and tasty shots and enjoy the party with everyone else. In my opinion this is better than spending hours preparing insanely decorated cocktails which people only appreciate once.
I hope you enjoyed this Halloween episode, I know I did. My absolute favorite is the Red Rum shot, so if you only want to try one recipe this has to be it. Maybe I will think more about cocktails for Halloween as I find it quite fun to make something other than oh-so-serious cocktails. Or maybe everything will be back to normal next week. Who knows? You can follow me on Twitter or subscribe to find out.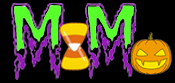 ---
Title image via pixabay.
---
---
A simple syrup made from molasses sugar instead of normal sugar. I used a ration of sugar to water of 2:1. ↩︎