As the temperatures drop further every day, it becomes increasingly difficult to convince yourself to venture outside. But sometimes you just cannot avoid leaving the comfort of your home and have to prepare for the worst. To keep up morale and warm you from the inside, I created a simple but soothing drink that lets you forget the freezing temperatures.
Brace Yourself
It is cold. Really cold. The temperatures have dropped as low as -14°C (6.8°F). And while everybody in Siberia probably might find this weather gentle, it is not something I'm used to. To keep us warm Doc Elliot decided it would be a good idea to fight off the cold with cocktails for this month's Mixology Monday.
The challenge is to create a cocktail that will buttress oneself for Winter's outdoor adventures. – Doc Elliot
I wrote about keeping warm with drinks before. Twice. But it never hurts to have one more recipe up your sleeve.
Old German Recipe
Before offering a tasty cocktail recipe I want to write about a major ingredient in it. When thinking about cold and what would be a fitting drink I immediately thought about Vikings. And what do Vikings drink? Mead. Sadly the time was too short to make my own mead, although that is something I plan to do this year (and will of course share with you).
But I know another way to harness the power of honey: Bärenfang. A 15th century liqueur that is really easy to make at home and will keep you warm even if you don't decide to mix it into a cocktail. Making some yourself doesn't take much time or effort. And you have most ingredients probably lying around somewhere already.
---
![Bärenfang](/content/images/2016/01/ingredients.jpg)

* 1l Vodka * 500g Blossom Honey * 200ml Water * 3 Cloves * 1 Vanilla Bean * ½ Cinnamon Stick * *Optional: 2 Sprigs of Rosemary*

Mix the honey and water in a pan and heat gently. Stir constantly until the honey has fully dissolved in the water. Don't let the mixture boil. Fill the vodka, honey water and spices into a large, air-tight glass or bottle and let it infuse for at least 2 weeks. A dark but not too cool place is perfect. Scrape out the vanilla pods from the bean, before adding everything to get more flavor.

After the spices had time to infuse, strain everything through a fine strainer and fill into a clean bottle. The liqueur will keep for a long time.
---
The rosemary is totally optional and the liqueur tastes great without it. But to give my cocktail a nice twist, and because I like rosemary I included it here. The main ingredient in this is the honey, so be sure to use a good one. Any floral honey is good. Don't be cheap and use a high-quality honey. It will pay off.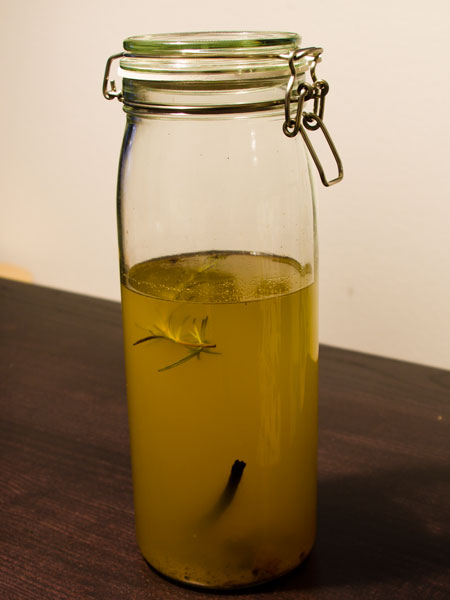 I could end this week with this recipe for Bärenfang and it would probably be enough to keep you warm. But since it is Mixology Monday, I want to give you another recipe so you can use this liqueur in a simple yet tasty cocktail.
---
![Carpathian Honey Cocktail](/content/images/2016/01/carpathianhoney.jpg)

####Carpathian Honey * 45ml [Tatratea](http://www.tatratea.com/en/#!/products/view/original) * 60ml Rosemary Bärenfang * 120ml Hot Water

Pour the Tatratea and Bärenfang into a heat-proof glass and top up with hot water. Garnish with a sprig of rosemary.
---
Slightly sweet, this cocktail tastes like a wonderful tea infused with honey and spices. It warms you with its heat and high alcohol content. And it goes down so easy. So beware as this drink will knock you out cold if you aren't careful.
You can prepare this cocktail in a minute without much effort as long as you have some Bärenfang around. Since no shaking or stirring is involved, this is a great drink to share with friends.
Prepared For Winter
It was fun making a batch of Bärenfang, especially since I flavored mine with rosemary, which I never tried before. And since it is so easy to make, all you really need is some space on your shelf to store the bottle. Honey and alcohol is a tasty combination and as with so many other recipes you can adjust your Bärenfang to your tastes by choosing a honey that you really like.
Before this post comes to an end I want to share another feel-good-recipe with you. Mix one part Bärenfang with four to five parts of tart and not to sweet beer. A German-style pilsner is perfect. The beer should be warm to make this another great winter drink. Goes down easy, has a great balance of beer and sweetness and is essentially the lazy man's Braggot.
This is it for this week and Mixology Monday. I must say it is always fun to see what those topics make me come up with. For next week I might just try another hot beverage if the cold weather doesn't go away. Find out about it by following me on Twitter or subscribing.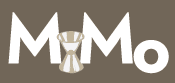 ---
Title image via pixabay.