Only one month until Christmas, which means the time for Feuerzangenbowle has arrived. Around here this delicious punch is pretty popular and I consume it every year with great joy. It's a magical drink and has everything a great punch needs: spices, rum and fire!
This punch is basically a mulled wine enhanced with rum and sugar that are brought together by fire. German Wikipedia tells me that the origins of this punch lie in the 19th century but doesn't provide any sources for this claim.
The Feuerzangenbowle has been made quite popular by the equally named book and movie Die Feuerzangenbowle, which is quite entertaining, at least if you are German. And somehow it became a tradition around here to watch this movie and share a pot of Feuerzangenbowle with your friends. Even without the movie, gathering around a punchbowl and partaking in this magical drink is something you have to try at least once.
Ignite!
Making a whole pot of Feuerzangenbowle isn't very difficult and I found a pretty solid recipe that you can use if you want to try it yourself. The only thing missing from this recipe are four pieces of star anise. Almost in all of the English recipes I found there was no star anise, but allspice or ginger were used instead. Well if you want to try the original, try it with star anise.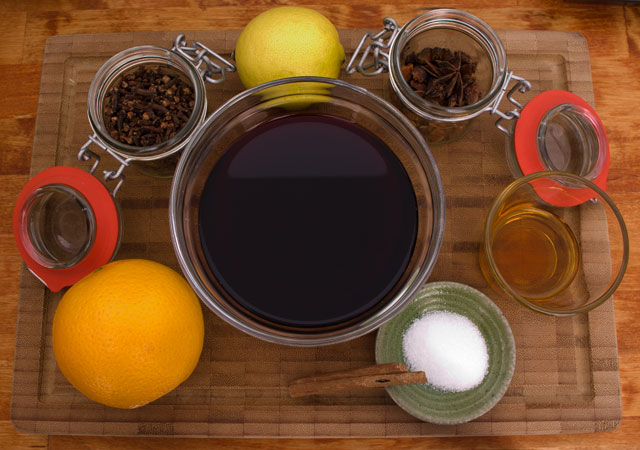 The most important ingredient in this punch is the wine. Use a dry red wine that goes well with the sweetness this punch has. But ultimately it comes down to personal taste and since you use a lot of spices and some citrus you can turn almost any wine into a tasty punch. I used a Merlot in my recipe, but have successfully made this punch with different wines in the past.
What if you don't want a whole bowl of Feuerzangenbowle? If you just want your quick fix or share a glass with someone else? No problem, I got you covered. Preparing just a glass or two is as easy as making a lot of it. It is obviously better to let the ingredients infuse for a while, but there are some shortcuts you can take, like using a bit more juice instead of zest. This is also a great way to try different flavor combinations, so you can find a recipe you like before make a large pot of it.
---
![Feuerzangenbowle](/content/images/2015/11/feuerzangenbowle.jpg)

####Feuerzangenbowle * 250ml Dry Red Wine * 30ml Fresh Orange Juice * 10ml Fresh Lemon Juice * 1 Clove * 1 Small Piece of Star Anise * 1 Small Piece of Cinnamon * 1.5 Teaspoons Sugar * 15ml (plus extra to float) Overproof Rum (at least 54% ABV / 108 Proof)

Pour the wine into a pan and heat gently. Add the orange juice, lemon juice, clove, star anise, and cinnamon. Let the mixture infuse for a minute or two. Stir in the sugar and rum. Heat until everything is nice and hot, being careful not to let the mixture boil. Fine strain everything into a heat proof glass or mug, place an absinthe spoon over the glass and put a sugar cube on top. Slowly pour over more overproof rum until the sugar cube is completely soaked. Ignite and let the sugar melt into the wine. Extinguish the flame before drinking and make sure the rim of your glass/mug isn't too hot.
---
Well, what can I say about this magical punch? A great mixture between sweetness, wine and spices. Topped with a healthy portion of rum and caramelized sugar. It warms you from the inside and the outside. Be sure to either use a very strong rum (above 70% ABV / 140 Proof) or heat up your rum beforehand, otherwise the sugar will not caramelize and just dissolve. And believe me when I say that you want the sugar to caramelize.
Extinguish!
I love this classic punch. Whenever fire is involved you can be sure to quickly grab the attention of your guests or friends. But even just making a glass or two, there is something nice and calming about it as you stare into the flame. And the fire isn't just there for show. Adding rum and letting the sugar caramelize really adds some bold flavors to this spin on a classic mulled wine.
If I sounded a bit too excited while writing about this punch, the reason is probably that I had two cups of this magical drink before writing. And this won't be the last time this year that I enjoy it. Maybe I'll share some pictures on my Twitter account when I make a large bowl as it always looks impressive.
If you decide to try Feuerzangenbowle yourself feel free to leave a comment with your impressions or leave a link to some pictures. I want to end this post with a quote from the book Die Feuerzangenbowle.
Eine Feuerzangenbowle ist keine Bowle. Sie ist ein Mittelding zwischen Gesöff und Hexerei. [...] Weich und warm hüllt sie die Seele ein, nimmt die Erdenschwere hinweg und löst alles auf in Dunst und Nebel.[1] – Heinrich Spoerl
---
Title image via pixabay.
---
A Feuerzangenbowle is no punch. It is a cross between swill and witchcraft. [...] Soft and warm, it envelops the soul, takes away the earth's gravity and dissolves everything in mist and fog. ↩︎