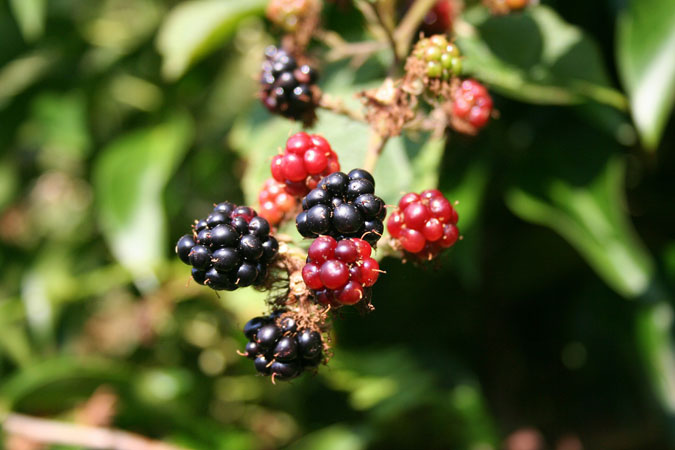 Bramble Cocktails And Heaps Of Berries
Summer and the season of berries is upon us. Enough of a reason to take a look at one of the great 80's cocktails The Bramble and try out some new variations.
As a nice twist on the Gin Sour it's rather easy to make and has a refreshing taste. When one day I found myself with blackberries but without crème de mûres, I improvised and stumbled upon a rather interesting variation. This made me think about what other alterations I could come up with. So I went ahead and bought some berries...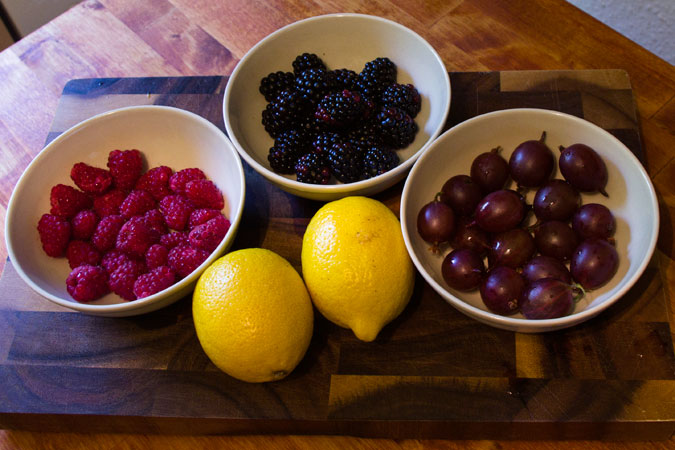 The Classic Bramble
Let's start with the classic recipe, created by Dick Bradsell in 1984 in London. Often referred to as a Modern Classic (more information can be found here, here or here), this cocktail has indeed aged well. Try one for yourself and I'm sure you will like it.
---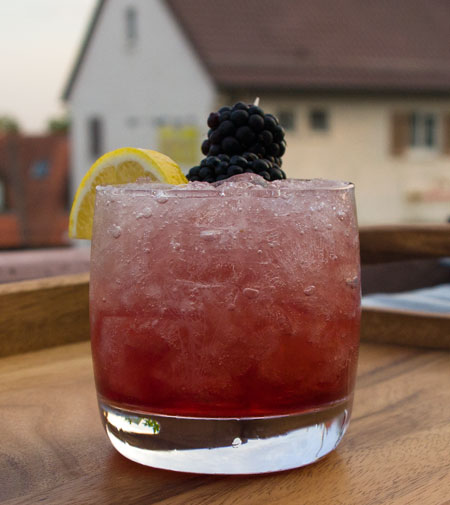 Bramble
50ml London Dry Gin
25ml Lemon Juice
10ml Simple Syrup
15ml Crème de Mûres
"Place first three ingredients in an ice-filled cocktail shaker. Shake and strain into an old-fashioned/rocks glass filled with crushed ice. Lace top of drink with crème de mures. Garnish with a lemon slice, a fresh blackberry and two small straws."
Recipe from How To Drink
---
The Bramble is easy to make and worth an investment in crème de mûres. However, I find the proportions suggested by Simon Difford create a more balanced cocktail. When it comes to the gin I recommend Plymouth Gin as it is slightly sweeter and has more floral notes, which complements the crème de mûres. If available you should definitely try G'Vine Nouaison in a Bramble. Not really a classic gin, it's very flowery. The grapes in this gin create a light drink tasting like spring.
Bramble Variations
As I mentioned earlier I found myself one day with lots of tasty blackberries, but without crème de mûres. Since I wanted to make something Bramble-like anyway, I decided to muddle the berries in the base of my shaker and hope for the best. In my original attempt I used G'Vine Nouaison as gin. I prefer the G'Vine, but it works great with Plymouth Gin, which is easier to obtain and doesn't cost as much, too.
---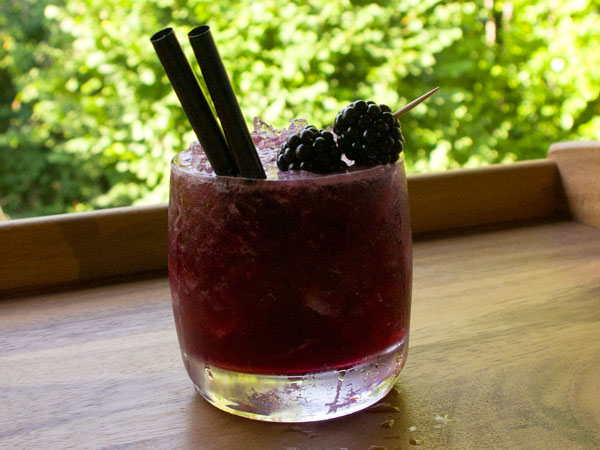 Velvety Bramble
60ml Plymouth Gin
30ml Lemon Juice
15ml Simple Syrup
75g Blackberries
Muddle the blackberries in the base of a boston shaker, add the other ingredients and shake vigorously with lots of ice for about 15 seconds. Then fine strain into a rocks glass filled with crushed (almost shaved) ice and garnish with one or two extra blackberries.
---
The taste of blackberries in this cocktail is more dominant, but still gives the lemon and gin proper space. When drinking this cocktail without straws, the almost shaved ice creates a smooth consistency and makes it feel like some kind of dessert. Fruity, refreshing and with a great mouthfeel. I think it's the perfect drink to enjoy summer while blackberries are in season.
The only drawback is, that it is really quite messy. You should avoid using a cobbler shaker. The fruit will get stuck and straining will be difficult. Even with a boston shaker it takes a while to strain and when fine straining you have to make sure your sieve doesn't get obstructed by all the fruit pieces. It is well worth the effort at home for one or two, but if you decide to make it in large quantities then some tweaking should be done.
Raspberries Are Fine Too
After I was pleased with my new discovery, I decided that it would be easy to adjust the recipe for different fruits. I figured I would probably end up with something as delicious as the blackberry version. The next logical step were raspberries.
---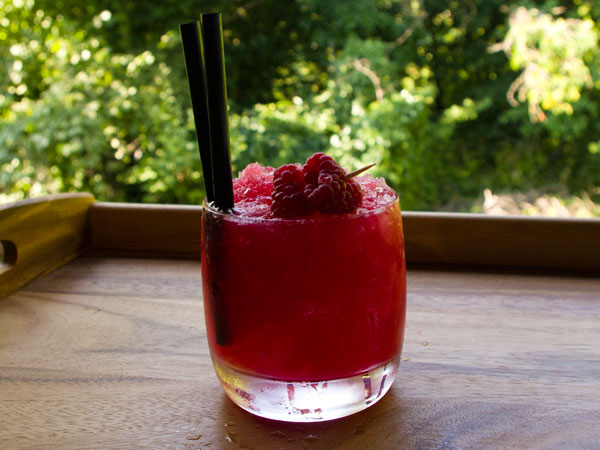 Raspberry Bush
60ml Plymouth Gin
20ml Lemon Juice
15ml Simple Syrup
75g Raspberries
Muddle the raspberries in the base of a boston shaker, add the other ingredients and shake vigorously with lots of ice for about 15 seconds. Then fine strain into a rocks glass filled with crushed ice and garnish with one or two extra raspberries.
---
Basically the same recipe as the Velvety Bramble, just replace the blackberries with raspberries. The main difference lies in using less lemon juice. Raspberries have quite a bit of sourness of their own, so adding the normal amount of lemon juice makes the drink too sour. But since fresh fruit is always different, adjusting the recipe as you go is sometimes necessary.
The fresh raspberries play well together with the citrus juice to create a fruity drink. Just like the Velvety Bramble it's a bit messy with all the fruit mush left in the shaker, but well worth the effort.
Use Any Berry You Like
Content with my little berry experiments, I decided it was time to try something bigger. Bigger berries! As a fan of gooseberry jam I just had to buy some. I figured they would make for a great drink too.
---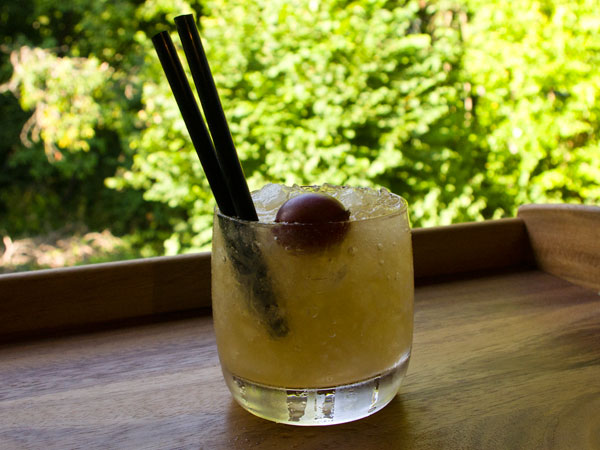 Prickly Gooseberry
60ml Plymouth Gin
15ml Lemon Juice
15ml Simple Syrup
75g Gooseberries
Muddle the gooseberries in the base of a boston shaker, add the other ingredients and shake vigorously with lots of ice for about 15 seconds. Then fine strain into a rocks glass filled with crushed ice and garnish with one or two extra raspberries.
---
The flavor of this cocktail depends on the state of your gooseberries. Are they ripe, red and can be squished with just a light touch. Or are they firm and green. The former will give you a sweeter drink with less acidity, while the latter has less sweetness and is more tart. And then you have the ability to mix different gooseberries to get something in between.
I used ripe, dark red berries and the result was very nice. Any fan of gooseberries is going to love this one and it has convinced me that gin and gooseberries are a winning combination. I have to look into this combination in the future.
The Fruity Conclusion
'Tis the season for fresh berries and there are lots of different ways to incorporate them into your cocktails. The easiest way is of course to just smash them and extract the tasty juices.
As I researched the Bramble for this article I found, that the idea to use fresh blackberries (or combining the blackberries with other berries) isn't entirely new. But this just proves that modifying a Gin Sour can't really go wrong. Berries and citrus just work together. As long as you remember to adjust the amount of citrus depending on the acidity of your berries you'll create a good drink.
Will these cocktails work with frozen berries? I can't say for sure, but my guess is: You muddle them so it might work. Nevertheless, I recommend fresh and ripe berries. Working with seasonal ingredients just makes a lot of sense and a fruity cocktail like this works better in the summertime anyway.
---
Title image via pixabay.